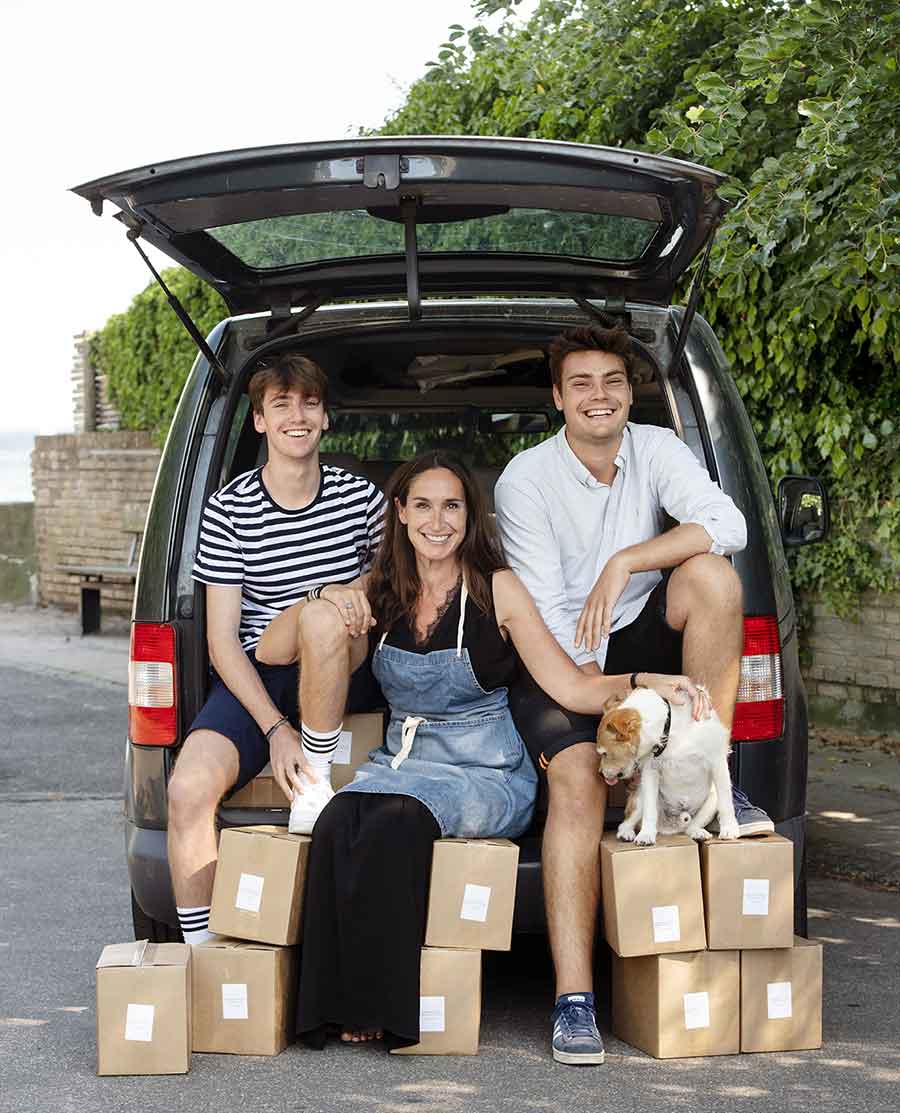 Botanisk Gin – Wenneberg og sønner
"Where flowers bloom so does hope" 
This botanical gin is locally crafted by a Danish family. A mother, writer and gardener, and two young sons, who study biotech. After years of making traditional Danish elderflower syrup in the garden, the family took the project further. And through many experiments and tastings, they produced this fine botanical gin, made purely on seasonal flowers, local berries and Danish botanicals. No sugar. No additives. Clean and pure. And certified organic (Ø-mærket!).
You will find Botanisk Gin in two varieties – both based on juniper berries, elderflowers, lemon thyme, roses, lemon verbena and… a whole lot of love and teen spirit. The mother's current favourite is a rosewater coloured gin – raspberry infused – a mild and friendly, floral elderflower-thyme-rose genuine gin. The black-and-white version is the boys' favourite – with a remarkable juniper-lemon-verbena-thyme-elderflower feeling. What is your favorite?
Noah, Simon and Signe Wenneberg sends love from their garden
wenneberg@botaniskgin.dk – Signe Wenneberg 21435463
Ready for sale
395,00 Dkr for one bottle – buy two bottles and get free delivery!
Botanisk Gin – Wenneberg og sønner
What's the difference?
If you want a classic gin to serve in cocktails – take the white one! So tasty – you can feel the elderflowers but there is still the authentic gin-feeling from juniper. Also good with a classic quality tonic.
If you want a gin to be served as a "skinny bitch" – with just an ice cube – take the rosé-colored raspberry infused version! So mild and floral and friendly… Also very good with a classic quality tonic.
Both our varieties are botanical, floral, mild – but still 40 pct alcohol. Both based on juniper berries, elderflowers, lemon thyme, roses, lemon verbena.
Suggestion: Serve our gin with seasonal frozen berries (winter) or edible flowers (botanicals) in the glass: Lilacs, elderflowers, roses (summer). Please do not serve with lemon or cucumber – our gin is distilled 6 times, so soft, no need for lemon…
Sustainability: Reuse the bottles – perhaps for syrup on the drinks table.
Please note: Ingredients are primarily organic. But as some are handpicked in fields and gardens our gin is not eco-certified (Ø-mærke).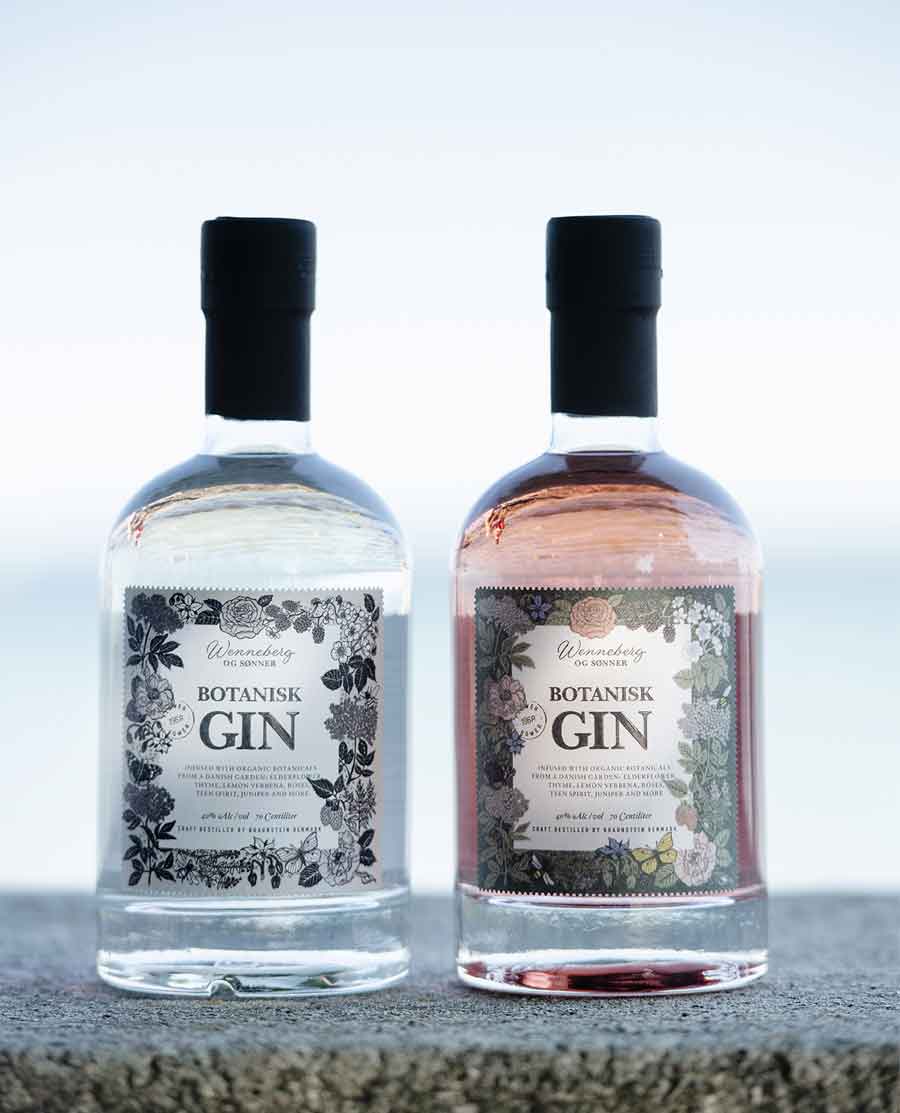 Ready for sale
395,00 Dkr for one bottle – Buy two bottles and get free delivery
Join the gin-retailer movement
Do you run a bar? Are you a shop owner? Do you want to sell these adorable bottles?
Please contact us for more information! Please do not try to message us on various different social media – use e-mail Thank you!
wenneberg@botaniskgin.dk – Signe Wenneberg 21435463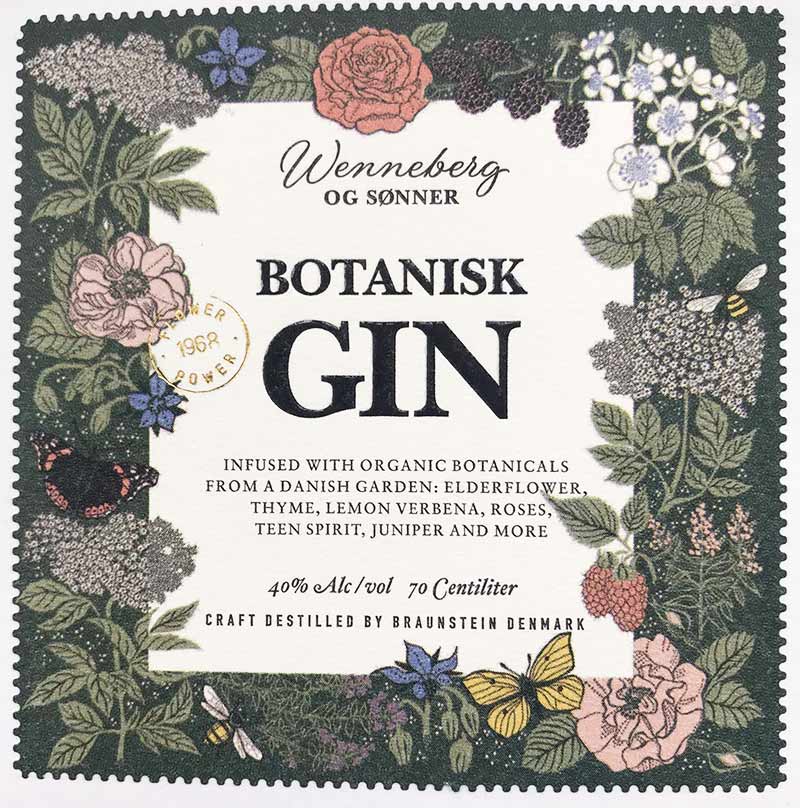 Wenneberg & Sønner, Hellerup (efter aftale – vi sælger fra lager både i Tisvilde og i Hellerup og vi sælger også fra julemarkeder lige nu! Hold øje med Instagram…)
By Hand & Nature, Ejnar Mikkelsensvej 19, Gudhjem // Næstved
Chokoladeblomsten, Vig Hovedgade 22, Vig
Eden Copenhagen, St.Kongensgade 85, Kbh.K
Kjær og Sommerfeldt – Gammel Mønt, Kbh.K., Odense og Aarhus
Kødsnedkeren, Ørby (vores supersælger!)
Gilleleje, Vin Mosberg
Den Friske Fisk, Holløselund
Rabarbergaarden, Holløse
Seasons by Sidsel, Tisvildeleje
Bakkegården, Vejby
Tisvilde Kro (fås i baren)
Helenekilde Badehotel (fås i baren)
Mangia, Bagerstræde 9, Kbh V
Den franske vinhandel, Roskilde
Theis Vine, Charlottenlund
Rotunden, Hellerup
Meny, Jægersborg Alle, Charlottenlund
Henrys by Rebekka, Jelling
Riceteria, Odense
Vin og Vin, Greve
SMAG Dansk, Vejle
Braunstein, Carlsvej Køge
Cahetu, Espergærde
Kastanielys, Sjællands Odde
Design by Kalleshop, Brønshøj
By Hans and Nature – Hjultorv 3, Næstved
Your shop next?
Ginstagram
Participate in the ginstagram movement
Post your experience with @botaniskgin and get a repost on our Instagram
The world needs more flowers. Bees and insects need botany and biodiversity to survive. And we need them. As consumers of everyday products, we can change the world with what we buy. We can vote for a world with more flowers and less monoculture with our choices, when we spend our money on sustainable products: Locally grown and handcrafted from natural ingredients.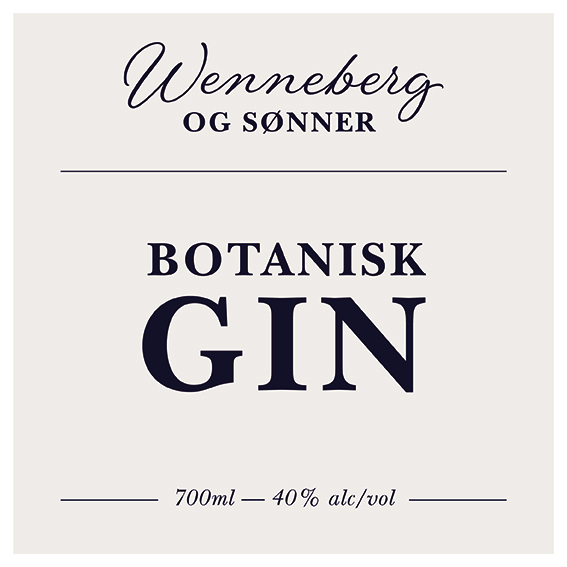 © Copyright 2018 Signe Wenneberg. All Rights Reserved